First Aid Kits for Backcountry Touring
By: Alyssa Young
When we step into the backcountry we assume heightened responsibility for taking care of ourselves and our group. When things go sideways, we need to be able to systematically address the situation. Just as we develop our ability to ski or ride well, interpret the snowpack, or perform avalanche rescue, we must learn how to respond to medical emergencies in the backcountry. A complete and compact first aid kit and knowledge of how to use it is an essential part of a good touring kit.
A good first aid kit contains the tools needed to address everything from relatively minor injuries, such as blisters and sunburns, up through major trauma, like really big bleeds or dislocations. It's also important to know how to address these emergencies, and taking a Wilderness First Aid or Wilderness First Responder course is highly recommended. Like any piece of equipment in your pack, the most important part of a first aid kit is knowing how to use it.
We put a lot of effort into building the perfect touring kits—skis that suit our style, boots that fit just right—and should give equal attention into the emergency equipment that goes into our packs. First aid kits are highly personal and customizable, and their contents should reflect your level of training and the context of your outing. First aid kit items should be carefully considered, versatile, and fresh. Restocking your kit is a great task to add to your pre-season ritual each year.
The winter backcountry is a harsh place, and the ability to manage the elements when plans go sideways can be lifesaving. Included in the list below are some of the supplies that could contribute to successful self-rescue or unexpected night out.
---
Picking A Kit: Prefab VS DIY
If you're starting from scratch the first question to ask is whether you want to build or buy your first aid kit. There are pros and cons to each and I've done both. Choose whichever option you're most likely to actually do.
Prefab kits are nice because they require less time input and contain the essentials. You can always get a kit and add to it to meet your needs and level of training. Adventure Medical Kits are lightweight and high quality. 
DIY kits are great because they're highly personalized and you have to think about each item that goes into them. If you're going the DIY route, I'd recommend getting a few friends on board. Have a little first aid kit building party and split up bulk packages of supplies. This can keep the cost down and everyone ends up with a sweet kit.
---
Contents
These are the contents of my (Alyssa) backcountry skiing first aid kit. Use this as a guideline for building or refining your own kit. My kit is organized by category so that the items most likely to be used together are stored together. This keeps thingy tidy and accessible.
---
Tools and Misc Items
-Multitool: for cutting clothes to expose injuries and modifying bandaging and splinting materials. This item lives in my repair kit.
-SPF chapstick and sunscreen: because prevention is the best medicine. I carry a small tin of zinc. 
-Nutrition: a high-calorie bar and a GU lives in my med kit. Sometime a snack and some electrolytes are all you need.
-Hand sanitizer: especially important on overnight trips or anytime food is being shared
-Wag bag: for when you need to poop and carrying it out is the appropriate thing to do. Also useful for packing out nasty trash.
-Menstrual care supplies: every med kit ought to have a spare tampon in it. Even if you're not a person who menstruates, be the champ who carries extra supplies for your friends.
---
PPE (Personal Protective Equipment)
-Nitrile gloves: good medical gloves are essential. I wear small gloves but also carry a pair of large gloves that I can give to my ski partner or wear over my liner gloves in case of extended patient care.
-Surgical mask: to protect yourself and your patient during extended periods of close contact
-Compact CPR mask: asphyxiation is the leading cause of death for avalanche burial victims. If you're digging someone out you need to be prepared to manage their airway and, potentially, perform CPR.
---
Blisters
-Medical tape: a good roll of tape is an essential part of a worthy first aid kit. I store mine in a glove knotted glove or small bag to keep it dry and maintain the adhesive's effectiveness. There's something extra soul crushing about needing tape and finding it soggy, dried out, or fused into a useless brick. Find the good stuff and take care of it.
-PT tape: super sticky, stretchy, and remarkably good at reducing blister-causing friction. Works well as a preventative measure.
-Heel-sized Band-Aids: a simple tool, and often all you need for heading off blister formation as it happens.
-Pantyhose: a little outside the box, but turns out for some folks that knee high pantyhose does the trick to prevent blisters better than any fancy/expensive tape or pad.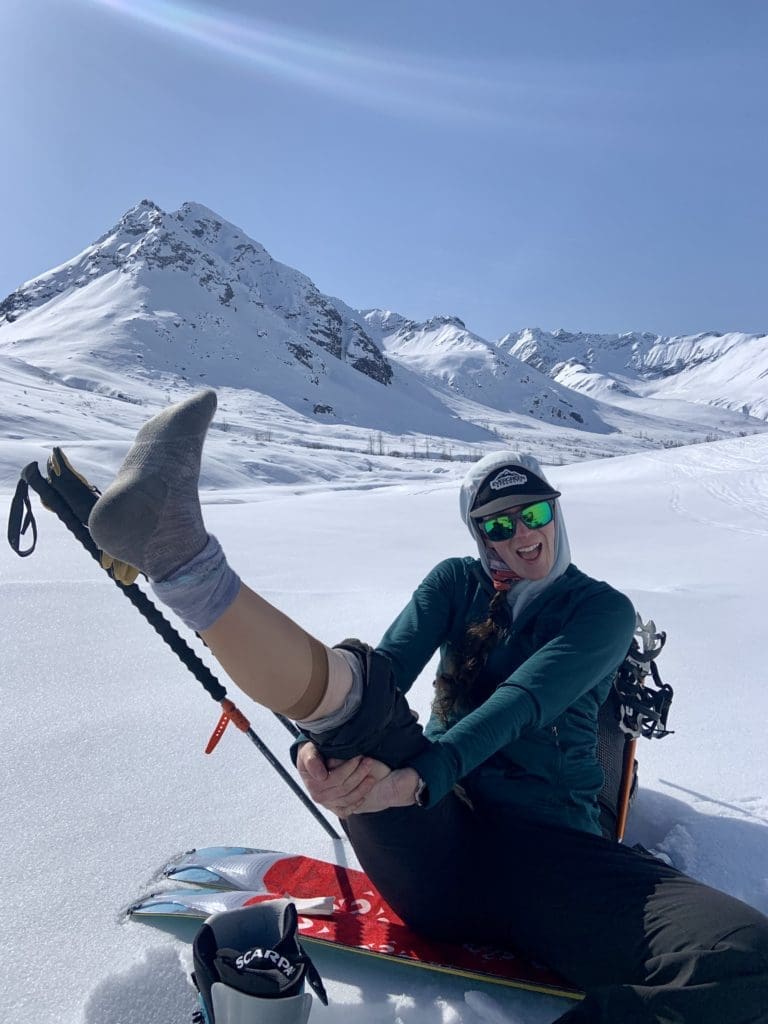 -2nd Skin: for hot spots, blisters, and burns.
-Moleskin: for preventing blisters and reducing discomfort once they've formed.
-Tincture of Benzoin: for making things stick. When you need it you need it.
---
Bleeds and Wound Management
-Band-Aids: sometimes it's all you need to deal with the ouchies and boost morale.
-Gauze Pad: a stack of small gauze pads for controlling bleeding and managing small wounds
-Wound Closure Strips: for closing deep wounds and slices (think ski edge to calf or tree branch to face). If you're using these you're probably thinking about heading to urgent care.
-Irrigation Syringe: for cleaning wounds in the field.
-Triple-antibiotic: for multi-day trips. Small cuts on hands get nasty in gloves. I carry a few tiny packets.
-Tefla Pads: non-adherent wound dressing for wound care.
-Clotting Sponge: amazingly effective at helping to reduce prolific bleeding.
-Tourniquet: for really big and potentially life-threatening bleeds. Improvised tourniquets are possible to make, but these are easier and safer to use if you really need one.
---
Breaks, Sprains, Dislocations
Everything in my pack is prospective splinting material. Climbing skins, clothing, pack frames or foam can all be used for splinting in the field. Just make sure you don't bury any essential items in your splint or bandage. There are also a few specialized tools I might carry on longer trips:
-Wire Splint: light, low-profile, and easy to make a fantastic splint when paired with equipment that you already have (such as extra layers, gloves, climbing skins, etc.). SAM splints are also great but are bulkier.
-Triangular Bandage: a versatile resource for splinting and bandaging. It's also nice to have a small chunk of cotton since most of our things are synthetic and non-absorptive.
---
Drugs
-Pain management: Ibuprofen and Acetaminophen. These can be used together to deal with big pain.
-Antihistamines: Benadryl, and an epi-pen for known anaphylactic allergies in the group.
-Altitude drugs: Diamox for high-altitude trips. Be aware of the side affects! It's a diarrhetic.
-Anti-diarrheal and anti-nausea meds: for multi-day trips. Tummy bugs when snow camping is not fun.
-Personal Prescriptions: whatever you need to take on a daily basis. Ask your touring partners about their needs as well.
---
Hypothermia
-Extra layers: enough to keep you warm if you have to stop moving for an extended period of time.
-Compact stove: I've started carrying a small stove on long day tours. A few packs of instant coffee and miso mix live in the stove bag.
-Inflatable sleeping pad: for sitting on, getting an immobile patient off the snow, building a rescue sled, and making an unexpected night out a whole lot more warm and comfortable.
-Sleeping bag: for overnight trips and, sometimes, for long remote day tours.
---
Exposure Management: Emergency Shelter and Evacuation
A good first aid kit and medical training is a great start, but if there's an accident you're likely going to need to hunker down and wait for help or self-rescue and get yourself out of the field. I like to carry an emergency shelter that is large enough for my touring partner and I to hunker down in, and is burly enough to be used as a rescue sled if needed. These are advanced skill sets best learned from a professional.
Want to learn more? Check out The Backcountry Skiing Guide.