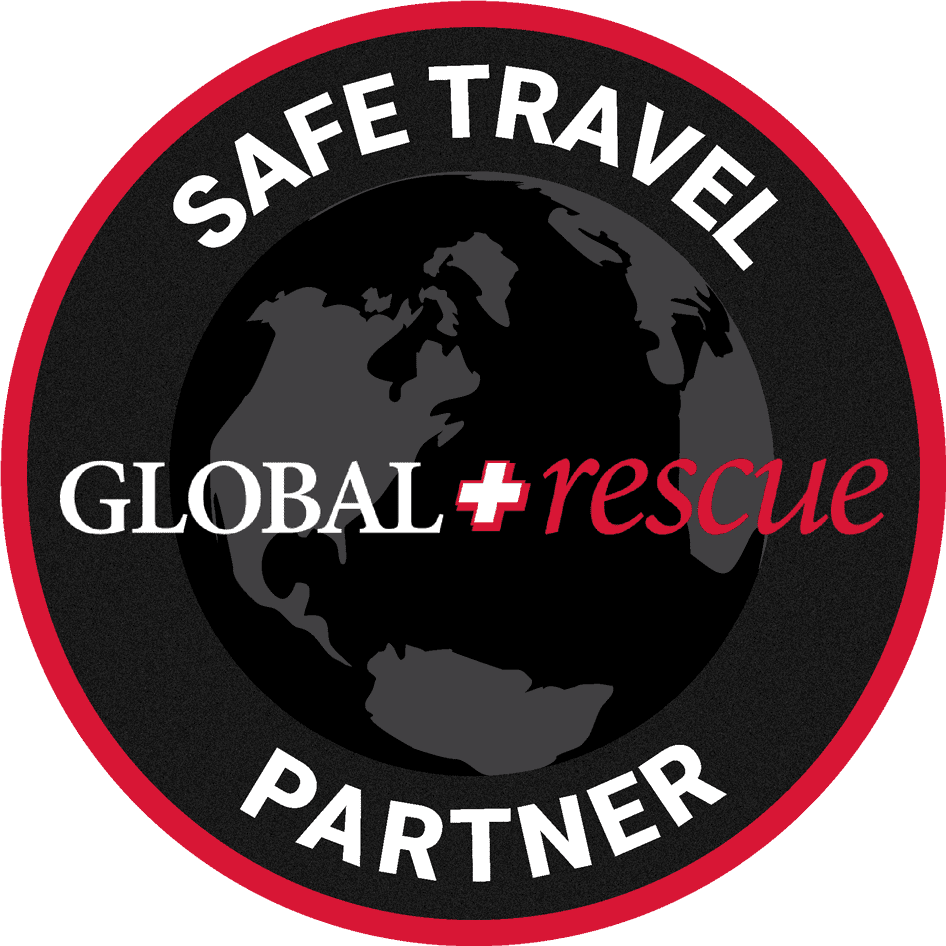 Global Rescue Travel Insurance
Cascade Mountain Ascents strongly encourages you to enroll in one of Global Rescue's products prior to your trip.  They offer trip securities that protect you and your program if medical or security emergencies, trip interruptions, or cancellations occur.  Global Rescue provides integrated medical, security, travel risk, and crisis response services worldwide.  You can purchase rescue memberships and travel insurance together or separately.
Global Rescue is a membership-based travel services provider offering medical and security advisory and evacuation services. Their services include worldwide field rescue from the point of illness or injury, medical evacuation to the member's home hospital of choice, and security extraction in the event of civil unrest, natural disaster, or terrorist attack. Member benefits are active anytime a member is 100 miles or more from home, and Global Rescue should be your first point of contact in the event of an emergency.
This membership and its services are applicable to Cascade Mountain Ascents trips when you desire:
Access to medical evacuations during foreign travel from international venues to your home hospital of choice. [Alps etc.]
Access to medical evacuations from domestic venues to home hospital of choice when your medical insurance will not cover it. [Alaska, North Cascades, Southwest etc.]
Access to mountain rescue in locations where there is not a robust system in place. [Nepal, Peru, etc.]
International Medical Group (IMG) Travel Insurance has created the industry's most complete product, tailor-made for the adventurous traveler. IMG Signature Travel InsuranceSM is the perfect add-on to your Global Rescue membership, providing coverage against a variety of unexpected expenses while you're traveling, and giving you the added comfort of knowing the actual value of your trip is protected if something goes wrong. They offer two polices; Signature Travel Insurance and Signature Plus Travel Insurance, which includes a Cancel for Any Reason benefit. This allows a traveler to cancel their trip up to 48 hours prior to their scheduled departure date and remain eligible for 100% reimbursement of pre-paid non-refundable trip costs for a covered reason, and 75% for a non-covered reason (any reason). The Signature Plus policy requires you to insure all of your prepaid, non-refundable trip costs, and must be purchased within 20 days of the initial trip deposit.
IMG Signature Travel Insurance: Main Policy – View full policy HERE.
IMG Signature Travel: Plus+ Policy – View full policy HERE.
Adds Cancel for Any Reason: Up to 75% of the trip cost insured if purchased within 20 days of initial trip payment
Adds Interrupt for Any Reason: Up to 75% of the trip cost insured
Adds an available Pre-Existing Condition waiver
For information on which Global Rescue product is right for your trip or course, contact:
Global Rescue Member Services
+1 617-459-4200
memberservices@globalrescue.com